A resident of Harvard, Massachusetts, Jennifer Sundeen is a yoga instructor, spiritual teacher, healer, poet, activist, community architect, and the mother of three daughters. She is the founder of several organizations that support girls, women, spirituality and the earth including The Durga Studio, Durga's Red Tent, Goddess Pilgrimages, The Lalla Project, and The Harvard Farmer's Market.
Jennifer was five years old when she met her first two yoga teachers, Hannah Greenberg, who introduced her to Hatha yoga back in 1974; and an ancient beech tree, who taught her about rhythms, cycles, the earth, and Oneness.  These connections to body and nature deeply affected a young Jen and immediately found a place in her heart. Since that time she has spent her years pursuing the yogic path in many varied and beautiful ways.
Over the past 20 years, Jen has tried to find as many ways possible to celebrate the Divine Feminine; she is committed to bringing awareness to this aspect of our consciousness in order to heal our Earth and Ourselves, so very necessary in our current day and time.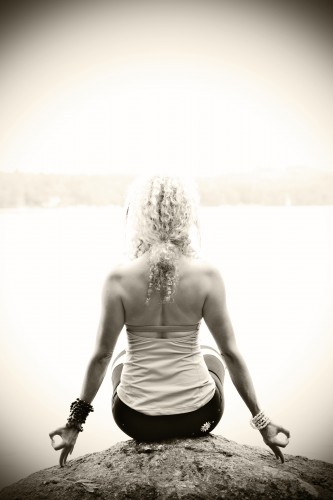 The Durga Studio is a reflection of that devotion and is in truth a Goddess Temple without walls.  The business model is circular, one of inclusion rather than hierarchy, and supports the idea that we all hold inside of us an inner healer and artist, and to that end welcomes the gifts our community has to offer. The more we embrace each other, the wider our circle of Love will grow.  Durga has many arms after all.
Jen has studied and practiced with many beautiful and inspiring teachers throughout the years.   She has been particularly drawn to Tantra, a practice that teaches us how to live fully, joyfully and in full Presence each and every moment.  She bows in gratitude to her teachers of ancient ritual: Shiva Rea, Kali priests Shivachariar Bhairavji, Swami Satha Sivom, and his daughter Harsha Sivom, a true embodiment of the Goddess.
Jennifer is dedicated to imparting her yogic philosophy to everyone: To find connections with all people, to cherish the earth, to live healthy lifestyles, to find beauty in the everyday moments, to rediscover the rhythms of the universe, to find the divine being that resides in all of us, and to shine who we truly are.