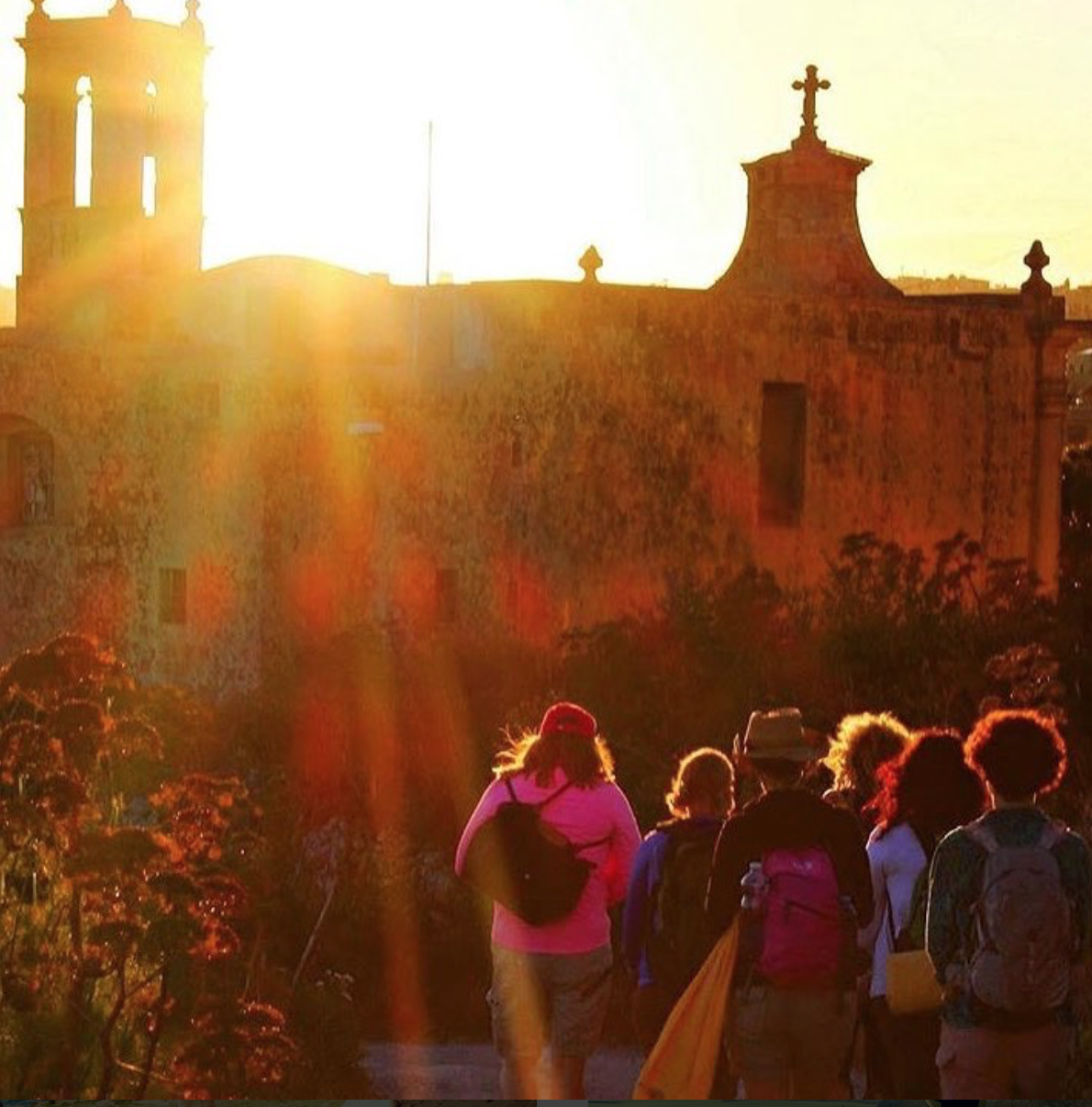 There has never been a more relevant - or imperative - time to reawaken the Sacred Feminine within us. For thousands of years across the world, the physical, symbolic, and metaphoric representations of the Feminine have been distorted, defaced, defamed, and destroyed. Simultaneously, women themselves have lived too long on this great Mother planet being silenced, being raped, being bound, being subjugated, being burned, being sold. For millennia this has gone on during the reign of the Patriarchy, and so many have attempted to control our bodies, our knowledge, our passion, our success, our lives, our deaths, our future.
Thus Goddess Pilgrimages was born out of a deep yearning to see the Sacred Feminine dance again.  Each year we journey to historic and mythological places across the globe to where the Mother Goddess was once, and in some cases still is, celebrated.  In doing so, we keep Her energies alive and reawaken them within ourselves.  We discover the deep feminine mysteries inside of us, and bring that part of ourselves into the light as the full embodiment of HER.  I can attest one cannot help but be filled with immense peace when honoring the Primordial Mother in these magical places.
GODDESS PILGRIMAGE TO SCOTLAND
OCTOBER 25 - NOVEMBER 2, 2021
The untamed landscape, snow-capped mountains, ancient castles, hidden stone circles, cobbled streets, mysterious lochs, rich history, the aching call of the bagpipe, warm fire-lit pubs, and welcoming people are beckoning. As light gives way to darkness and the seasons begin to change, we go in search of The Cailleach, also known as Deer Mother, as we step into myth and history, ritual and tradition, culture and community.
It is said that The Cailleach comes to us from "the long eternity of the world." Shrouded in mystery and believed to have created Scotland itself, the echoes of this ancient goddess can still be heard, sometimes as whispers from the wintry shadows, sometimes as a wild banshee call. The Cailleach symbolizes the strength and wisdom we all hold within us, and our ability to age with confidence and grace. She has been called by many names throughout the ages: The Old Wife, The Crone, The Veiled One, Bone Mother, the Woman of the Stones, and Deer Mother to name a few. She is stormy, passionate, untamed, unapologetic, fierce. The Cailleach is the ancient Mother Goddess of creation, destruction, transformation, the guardian of life, the protector of the deer, and the keeper of the seed.
We invite you to join your sisters and brothers for a Samhain/Halloween celebration like no other, stepping through the veil to meet ancient myth, tradition, the ancestors, and our own mystical inner world of connection, creation, destruction, wisdom and change.
 ***********************************************************************
Cost: £ 3,800.00 GBP
£800 deposit due 7/31/21
£1800 due 8/31/21
£balance due 9/30/21
Please inquire about payment plans due to COVID circumstances if needed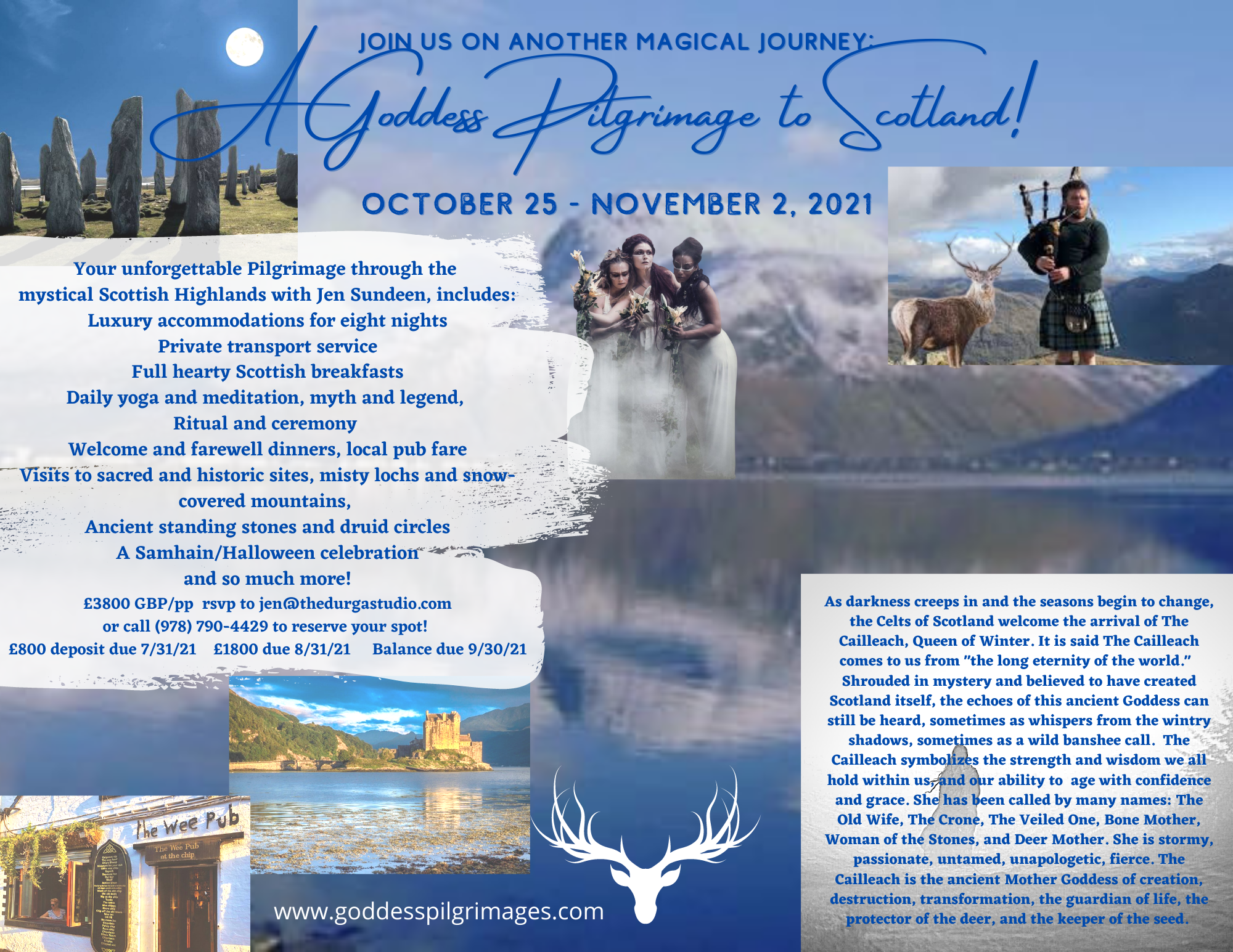 Our nourishing 9 days include:
~ Luxury five-star accommodations
~ Special welcome dinner
~ Full hearty Scottish country breakfasts
~ Daily morning yoga, meditation, ceremony and ritual
~ Excursions to sacred sites, druid temples, stone circles, snow-capped mountains, rugged seasides, mysterious lochs, ancient castles and more!
~ Time for relaxing and connecting with Mother Nature
~ Lively Scottish pub suppers
~ Samhain/Halloween celebration
~ Farewell dinner
~ Private car service
~ Round-trip transfer to and from Edinburgh Airport
************************************************************************
Please join us
on one or all of these transformative and healing journeys that include five-star hotels, ancient temples, local healers, mythology, history, ritual, yoga, meditation, traditional food, art, self-discovery and lifelong friends.  I want nothing more than to see the Divine Feminine and the Divine Masculine dance together as equal partners; for us to remember every single one of us embodies these two energies that make up the One. We are all sacred. We are all divine. Remembering this, I do believe, is the only way for humanity and love to thrive. Om.
JOIN US:
SCOTLAND AND THE CAILLEACH     
OCTOBER 2021!