Goddess Pilgrimages
Mexico ~ Malta ~ Crete ~ Bali ~ Ireland ~ Sicily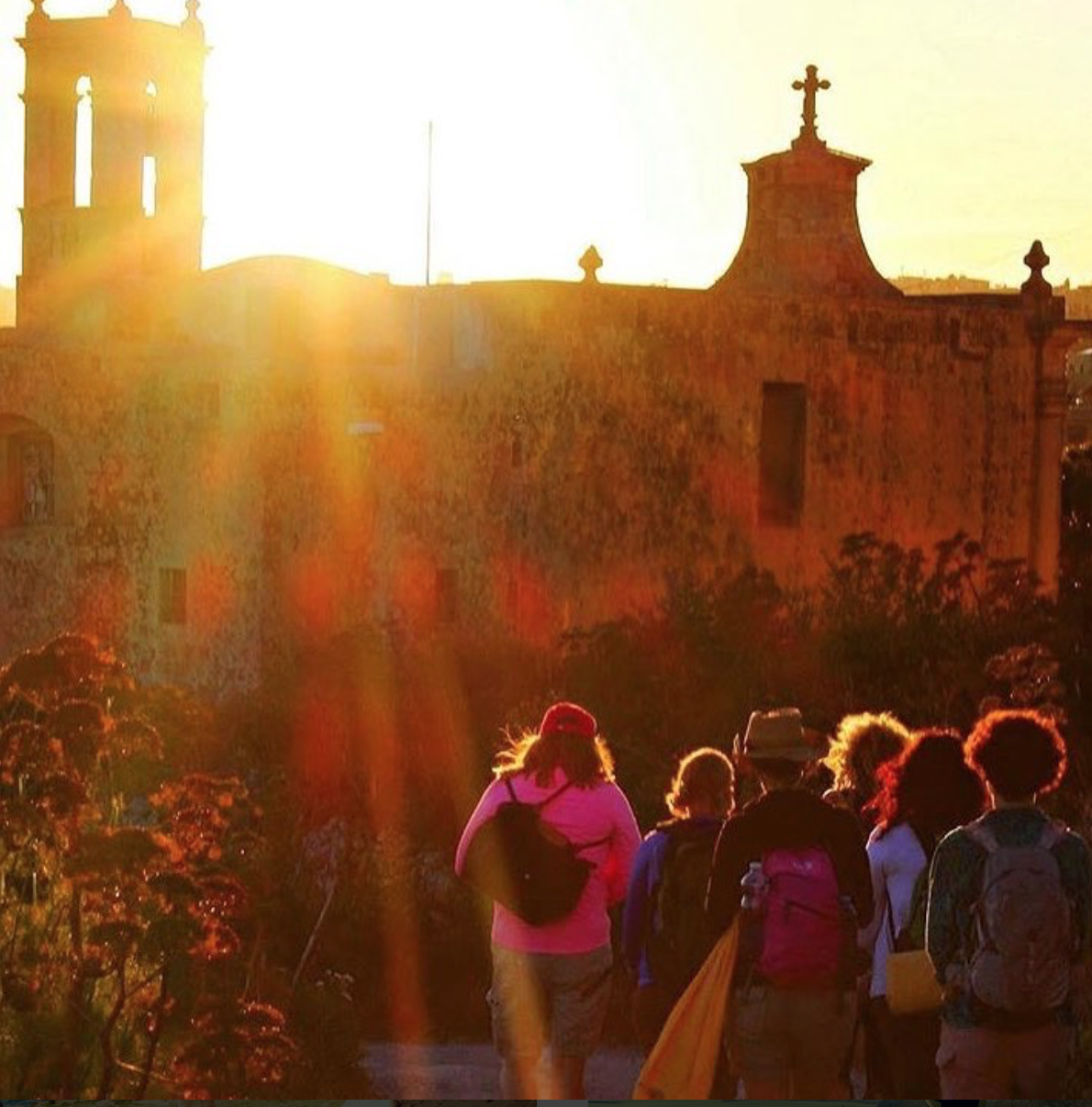 There has never been a more relevant - or imperative - time to reawaken the Sacred Feminine within us. For thousands of years across the world, the physical, symbolic, and metaphoric representations of the Feminine have been distorted, defaced, defamed, and destroyed. Simultaneously, women themselves have lived too long on this great Mother planet being silenced, being raped, being bound, being subjugated, being burned, being sold. For millennia this has gone on during the reign of the Patriarchy, and so many have attempted to control our bodies, our knowledge, our passion, our success, our lives, our deaths, our future.
Thus Goddess Pilgrimages was born out of a deep yearning to see the Sacred Feminine dance again.  Each year we journey to historic and mythological places across the globe to where the Mother Goddess was once, and in some cases still is, celebrated.  In doing so, we keep Her energies alive and reawaken them within ourselves.  We discover the deep feminine mysteries inside of us, and bring that part of ourselves into the light as the full embodiment of HER.  I can attest one cannot help but be filled with immense peace when honoring the Primordial Mother in these magical places.
GODDESS PILGRIMAGE TO SICILY
Join your Durga Studio sisters on another magical Goddess Pilgrimage.  This year we journey to captivating island of Sicily, Italy to celebrate the remarkable mother-daughter goddesses Demeter and Persephone from Greek mythology. Drenched in light and terra-cotta, surrounded by the deep blue Mediterranean Sea and citrus groves, overflowing with sun-ripened produce, valleys dotted with olive trees and vineyards, steeped in a rich history and ancient archaeological sites, Sicily is an island fit for a Goddess for sure.
Grandmothers, mothers, daughters, sisters, aunts and women of all ages are invited to join us for a week in one of Sicily's most stunning 18th century farmhouse villas nestled between Mount Etna volcano and the Mediterranean Sea.  Exceptional amenities include your own private chef, lava stone floors, ceramic tiles and vaulted ceilings, lush flower and fragrant herb gardens, the scent of lemon groves, outside living areas, a heated pool, jacuzzi, and all the extras you could wish for.
 ***********************************************************************
The ancient mother-daughter myth of Demeter-Persephone tells the story of the growth cycle of Spring-Summer-Autumn-Winter and of our own cyclical life rhythms. Through their timeless tale, we are able to meet our Selves in the fullest of ways: we see our limitless seeds of possibility as the great Creatrix of Spring; the sunny, playful and tender nurturer of Summer; a woman in her fullest embodiment as she enjoys the fruit of her labors in Autumn; and the necessary shadow-worker and old grandmother of Winter.  Demeter and Persephone allow us to feel the grief of separation and change, and the joy in reconnecting and redefining new ways of Being.
In a greater sense, the Demeter-Persephone tale reflects the current severing of our Mother Earth connection, and what needs to be done on a global scale to reconnect and heal with Her.  We ultimately realize our personal stories of hardship, suffering and change are, if we listen carefully, divine teachings that can lead us collectively into a higher realm of love and spiritual awareness.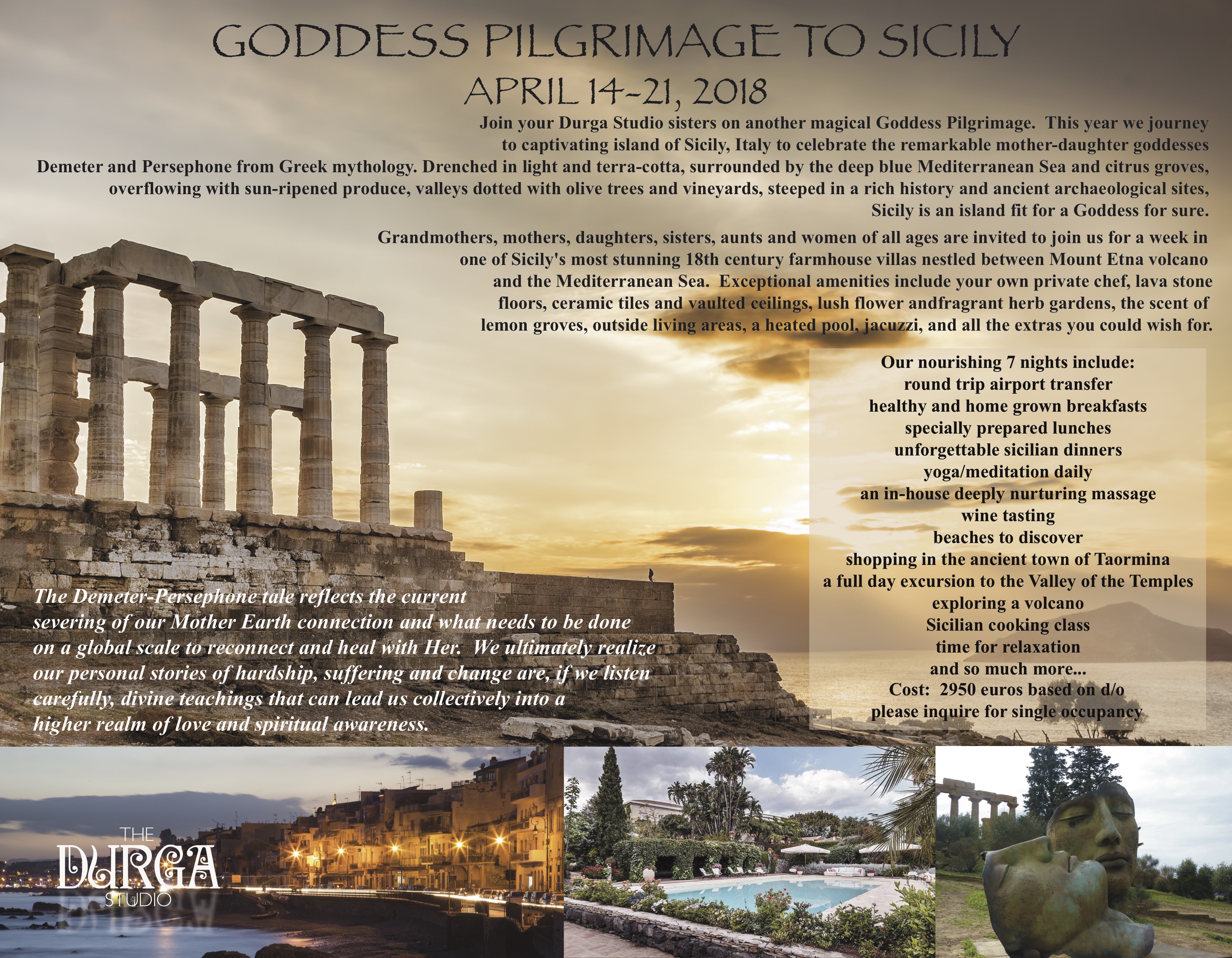 Our nourishing 7 nights include:
round trip airport transfer
healthy and home grown breakfasts
specially prepared lunches
unforgettable sicilian dinners
yoga/meditation daily
an in-house deeply nurturing massage
wine tasting
beaches to discover
shopping in the ancient town of Taormina
a full day excursion to the Valley of the Temples
exploring a volcano
Sicilian cooking class
time for relaxation
Cost:  2950 Euros based on d/o
please inquire if you would like single occupancy
500 Euros Deposit due 1/15/18
1225 Euros due 2/15/18
balance (1225 Euros) due 3/15/18
Please join us
on one or all of these transformative and healing journeys that include five-star hotels, ancient temples, local healers, mythology, history, ritual, yoga, meditation, traditional food, art, self-discovery and lifelong friends.  I want nothing more than to see the Divine Feminine and the Divine Masculine dance together as equal partners; for us to remember every single one of us embodies these two energies that make up the One. We are all sacred. We are all divine. Remembering this, I do believe, is the only way for humanity and love to thrive. Om.
SAVE THE DATE: SICILY APRIL 14-21 2018!
Celebrate Demeter-Persephone and the Mother-Daughter energies that lie within each of us.  See above for details...