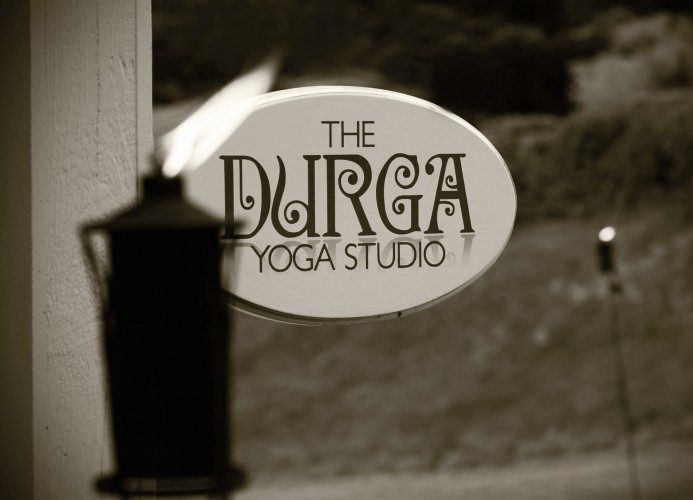 Based in historic Harvard, Massachusetts, The Durga Studio is an ever-growing community of beautiful people who come together to cherish Mother Earth, to hold space for each other's sacred journeys, and to connect to their own divine spirit within.
The Durga Studio is rooted in tantra ~ a celebration of the miracle that is in each breath, in each moment, in each and every one of us. Our bodies, our breath, and our senses are ways we have been given to arrive at a place of peace, of acute awareness and presence of being.
Our nature-based yoga classes are full of philosophy, mythology, postures, breath work, and restful meditations.  We welcome students of all levels; whether you have never stepped on the mat before or are a life-long practitioner, we invite you to be right where you are, to explore the possibilities, to honor your limitations, to celebrate YOU in all ways.   Classes are warm, not hot, with the idea that the body heats naturally from the inside out.  In each of these special flow classes, you can expect to find synchronicity with universal rhythms; detoxify, stretch and tone; unleash your energy; nourish and nurture your soul; find your breath; melt into relaxation.
We recognize that yoga is also a way of living, and we try to offer many opportunities that bring us into Presence.  Drum circles, live music classes, meditation, kirtan, fire ceremonies, nature hikes, and temple outings are amongst some events offered throughout the year.  Try a taste ~ or simply dive in ~ to all of these wonderful yogic experiences:
"Instructions for living a life:  Pay attention. Be astonished. Tell about it."
~ Mary Oliver
 Tuesday Earth Temple
Nature-based yoga for all levels
JOIN US TUESDAYS  5:30 - 7:00PM*
Outside, poolside, under the trees and sky
35 Scott Road, Harvard, MA 
*** NO YOGA THE WEEK OF  9/13 DUE TO RAIN
PLEASE JOIN US TUESDAYS     5:30-7:00pm
***PLEASE NOTE THERE IS NO CLASS 9/13 DUE TO RAIN***
 Tuesday Earth Temple (Nature-based yoga)
35 Scott Road, Harvard, MA, Outside under the Trees and Sky