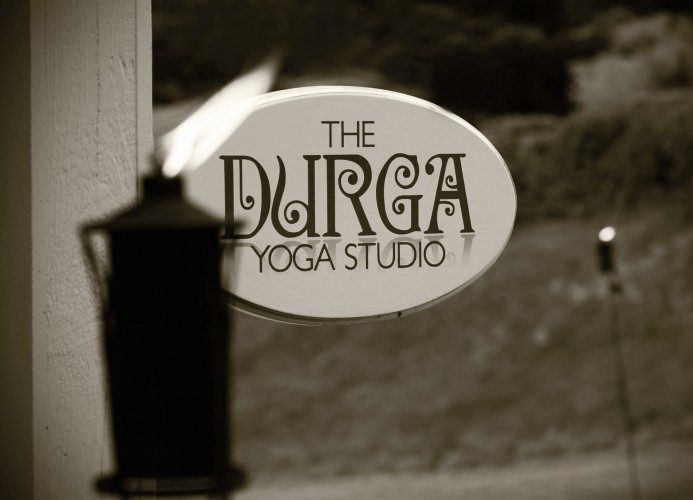 Based in historic Harvard, Massachusetts, The Durga Studio is an ever-growing community of beautiful people who come together to cherish to the world around them, to hold space for each other's sacred journeys, and to connect to their own divine spirit within.
The Durga Studio is rooted in tantra ~ a celebration of the miracle that is in each breath, in each moment, in each and every one of us.   Our bodies, our breath, and our senses are ways we have been given to arrive at a place of peace, of acute awareness and presence of being.
Our yoga classes are full of philosophy, mythology, postures, breath work, and restful meditations.  We welcome students of all levels; whether you have never stepped on the mat before or are a life-long practitioner, we invite you to be right where you are, to explore the possibilities, to honor your limitations, to celebrate YOU in all ways.   Classes are warm, not hot, with the idea that the body heats naturally from the inside out.  In each of these special flow classes, you can expect to find synchronicity with universal rhythms; detoxify, stretch and tone; unleash your energy; nourish and nurture your soul; find your breath; melt into relaxation.
We recognize that yoga is also a way of living, and we try to offer many opportunities that bring us into Presence.  Drum circles, live music classes, meditation, kirtan, fire pujas, nature hikes, and temple outings are amongst some events offered throughout the year.  Try a taste ~ or simply dive in ~ to all of these wonderful yogic experiences:
  TUNING INTO NATURE  with Shay Nichols:
A Morning of Healing and Connecting 
Sunday August 5th 9:00am - Noon, $50    Harvard, MA
Optional potluck lunch to follow
What happens when we listen deeply to nature? In this workshop, we will explore connecting to the earth with sound, movement, and silence. Discover the process of rewilding your voice, allowing natural music to emerge. Dropping into the senses, we will deepen our awareness of the natural world. We will collaborate with nature and allow her mystery and beauty to infuse our musical creations.The art of vocal improvisation strips away layers and reveals the vulnerability and power of your natural, true voice. It's a wellspring of inspiration. You sing the deep truths of the moment. When you tap in, it's spellbinding.
Please join our community as we explore spontaneous sounding and song creation in community, playing with rhythm, textures, melody, and harmony. Singing heals and enlivens us. It brings life to our creativity. We sing our prayers. We come into the organic self, allowing a nourishing river to flow.  Please register at jen@thedurgastudio.com:
Shay Nichols is a recording artist, sound healer, teacher, and dedicated listener of the natural world. A graduate of the California Institute of Integral Studies Voice/Sound Healing program and Open Ear Center, Shay developed her own voice work based on principles of sound healing and vocal improvisation. She excels at helping people discover and experience the power and wild versatility of their own voices. Shay is creating The Natural Music Institute, to foster collaboration between ecologists and musicians to produce recordings inspired by natural environments and to engage the public in efforts to combat global climate change.
Yoga Outdoors, Fridays 9:15am - 10:45 35 Scott Road, Harvard
Friday Morning Earth Yoga  - Outside under a canopy of trees and sky, join our earth-loving community outside, poolside, on Friday mornings! Relax, re-connect, renew, let go, notice more, find spaciousness, and discover the exquisite world around and within you! Enjoy the loving support of the Elements and the Elementals as we celebrate Nature in all ways. Bring a mat, towel, and a bathing suit if you wish for a water-svasana or a post-yoga dip.  A beautiful way to celebrate the coming weekend!
Tuesday Night Yoga Temple ~ The Yoga of Nature returns this Fall! Tuesday Evenings are something truly special at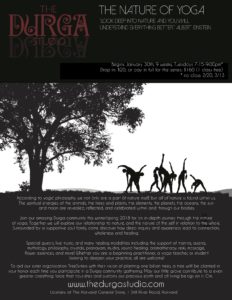 The Durga Studio.  This yoga class is a full spiritual experience that allows you to connect with Nature around and within you, and to find synchronicity with your body, mind, spirit, breath, and our greater universal rhythms. Expect live music, special guest teachers, healing techniques, philosophy, mythology, candlelight, a deep healing savasana and more… Suitable for all levels; be right where you are!
Tuesdays, 7:15-9:00, Upstairs at the Harvard General Store.  These nights are not to be missed. Returning this Fall!
Teen Goddess Yoga ~ Now into its second decade, Teen Goddess Yoga invites girls ages 11-17 to discover their body's amazing potential and strength, the ability to be flexible, and the confidence to shine their beautiful Goddess spirit.  Our goal is to empower, support, nourish, nurture, de-stress, love ourselves, honor each other, and see the infinite possibilities that lie within. I am excited about the new format: Sunday afternoons, informal and student inspired. With more of a 'club' atmosphere versus a formal yoga class, we hope to provide a space of support, conversation, freedom to be ourselves, and a true Sisterhood. We will spend our afternoons exploring Goddess mythology, basic postures, breath, meditation, relaxation, journal writing, poetry, arts and crafts, and more.  We also get fun and funky with bindis, henna, sweet tunes, chai tea, mandala work, fire ceremonies, along with some dancing, painting, cooking, and fabulous field trips woven in! There is nothing quite like the Teen Goddess Yoga at The Durga Studio.  Join us! Celebrate the Goddess that you truly are!  Sundays Coming Soon.
The Red Tent Temple ~ CALLING ALL SISTERS!!   Join us for one or all of these special all-women evenings on the first Sunday of every month.  Teach, learn, open your heart, heal, share, empower, strengthen, transform amongst a beautiful and supportive sacred community of sisters.  Celebrate the courageous and radiant YOU in all ways! This is a non-movement evening that will nourish and inspire. Bring a sitting pillow, blanket, a mug, your mother, aunt, sister, friend, or daughter and join us! Upstairs at the Harvard General Store, By donation; proceeds go to various Women's charitable organizations. Can't wait to see our sisters soon!
Private Flower Essence Healing Sessions with Jen ~ Allow the healing vibrations of flowers - and of Mother Earth - to deeply nourish, nurture, de-stress, and re-balance.  Give yourself the gift of your SELF and celebrate YOU in all ways! Drawing upon over forty years experience in the meditative arts and over twenty years of studying and teaching energy as a means to a healthy and vibrant embodiment, Jen's completely tailored two hour intuitive Flower Essence session with you includes a pre-visit phone/skype consult, a one hour and a half in-person energy healing at her home studio, your personal healing Essence, plus follow-up phone support.  You might wish to include gentle yoga, meditation, a calling in of universal and goddess energies, reiki, sound healing, chakra work, or perhaps other healing modalities to suit your needs.  Contact Jen at jen@thedurgastudio.com or (978)790-4429 to schedule your private Flower Essence session. YOUR DIVINE SOUL is worth healing...and loving! <3  $75/session.
We are looking forward to the many adventures that await The Durga Studio in the year ahead.  Hope to see you down the path or on the mat soon!
Mondays
3:15 – 4:45 ~ Yoga for Teachers at HES
Tuesdays
7:15 – 9:00 pm ~ Tuesday Night Yoga Temple with Jen
Fridays
9:15 - 10:30 am - Poolside Earth Yoga, 35 Scott Rd, Harvard
Sundays
4:30-6:15 pm ~ Teen Goddess Yoga Club
Upstairs at the Harvard General Store
7:30 – 9:15 pm ~ Red Tent Temple for Women
The last Sunday of each month!
Private Flower Essence Healing with Jen
Deeply nourishing individual healing journeys
scheduled throughout the week at your convenience.
Email jen@thedurgastudio for more info!
Cello: Excerpt of "Lalla" composed and performed by Robert Bethel